08.05 The Close-Up Photography Assignment Worksheet
Are you looking for some interesting and out of the ordinary project ideas for your close up or macro photography? Want to break away from the usual flowers, leaves, plants and mushrooms? Tired of bugs, butterflies, and spiders? All of those can make great close up subjects, but certainly not unique ones. Here are a few macro photography project ideas that may inspire your creativity:
Photo by begemot_dn; ISO 400, f/4.8, 1/640-second exposure.
1. Cutlery. Knives, forks, and spoons can make great macro subjects. Arrange like pieces together to create lines and patterns.
2. Feathers. Feathers are beautiful close up. The central shaft creates a strong line which may be curved or straight, while the rest of the feather provides a soft texture. Use bird feathers that you find or purchase, or pluck one out of your down pillow or duvet!
3. Water droplets. This one is a classic, but be creative, and find your water on unusual surfaces like a wire fence, a cobweb, or a rear-view mirror. Early morning dew makes almost any subject magical. In the spring or fall, your can look for frost instead of dew.
photo captured by Ken
4. Glass. Close up photos of fine crystal glassware can yield wonderful abstracts filled with curved lines and reflections. For added fun, place glasses side by side, or one behind the other to create lines where they overlap. You can fill the glasses with colored water for even more creative images. Finally, you can add a sheet of clear, but textured glass (available for purchase at stained glass craft stores) in front of your glassware. The possibilities are endless.
5. Foil reflections. While you have your glasses full of colored water, why not pull out a sheet of kitchen foil, or some shiny silver craft paper? Use your macro lens to shoot down into the foil and capture the reflections of the colored water in its folds and creases. This exercise is a tricky one, and requires patience, but the results can be very rewarding.
6. Fruit and vegetables. They're not just good for your diet! Fruit and vegetables make great macro photography subjects. Try kernels of corn on the cob, citrus slices, or go for more exotic fare like dragon fruit. You can place translucent slices on a lightbox for a clean, bright white background. You can also photograph the fruit or vegetables on plates in complementary colors.
"La Terre magmatique" captured by Didier
7. Rust and peeling paint. Fascinating rust patterns can be found on an old car, or even a metal garbage can in the park. Peeling paint graces old fences and walls. Most people pass by such items without a second glance. Not you! Break out your macro lens, and reveal the hidden beauty. Just beware of harsh shadows if you are photographing in bright sunlight.
8. Car details. The sleek lines of shiny chrome and trim on a polished car can provide hours of photographic entertainment. You can photograph your own car, but don't be shy about taking your camera to an antique car show. Car owners are usually proud of their vehicles, and won't mind your photographing the details.
9. Animal bits. The texture of fur on your pet dog, or the wrinkled skin of an elephant at the zoo, can make a great close up shot. Paws, claws and teeth are fun too, as long as you keep out of harm's way. Finally, eyes always make compelling subjects. Shoot close ups of the eyes of your dog or cat (or a person, too!).
10. Tissues. For some high key abstracts, and a really unusual subject, try photographing a tissue. With a little imagination, the lines and shadows formed by the soft folds can create some intriguing images.
For a bonus, take a fresh look at ordinary objects around your home, such as light bulbs, shoe laces, book pages, clothes pegs, straws, holiday ornaments, or pencils. Try to find interesting patterns, lines, shapes, and colors, and create a little close up magic.
I hope these ideas inspire you to get out there with your macro lens and start shooting!
About the Author:
If you want to learn more about taking macro photographs, be sure to check out my two eBooks. They are filled with helpful tips, useful information, and spectacular, full color images to inspire you to create better close up photography.
Related Articles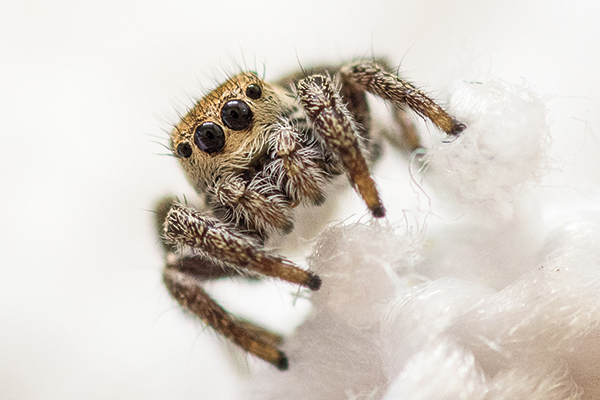 Not So Menacing
"I noticed this tiny jumping spider in my bathroom one day on one of our white hand towels," Givanni Mikel said. "I don't normally like spiders but this little guy was surprisingly friendly and didn't mind the camera at all." It was shot with a Nikon D5200 and a Tokina 100mm macro lens at 100mm, ISO 640, f/11, 1/25 second.
© Givanni Mikel
Shutterbug readers were ready for their close-ups with this month's Picture This! assignment. Macro photography has long been a favorite of readers and we were looking for your best close-up shots.
While there are many classic macro subjects to capture, including flowers, plant life, and insects, we asked you to push yourself and show us some close-ups we've never seen before. You delivered.
The key to great macro photography is to get the points of interest in an image as sharp as can be to draw the viewer into these tiny photographic scenes. Our seven favorite images for this assignment thought small but went big for maximum impact with macro photography.
Pocket Watch
Gary Swanson shot this intricate close-up in natural lighting with a black backdrop using his Panasonic Lumix camera's macro setting.
© Gary Swanson
Emerald Blue
Lorenzo Cassina captured this captivating pattern and colors from a beautiful peacock feather using a Nikon D80 and a Nikkor 28-80mm lens at f/18, ISO 200, 1/2 second.
© Lorenzo Cassina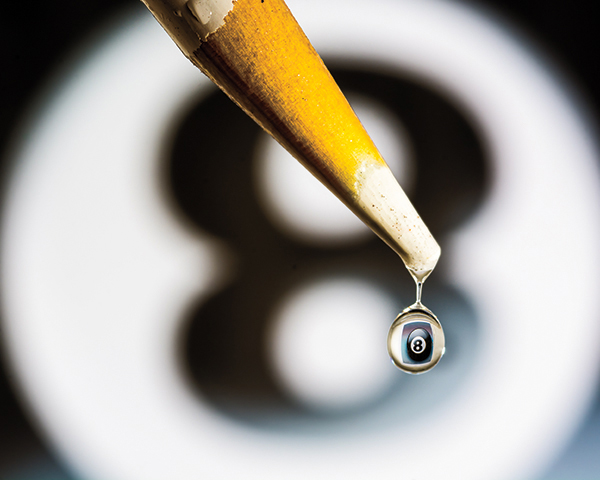 Don't Fall Behind the Eight Ball
"This photograph is from a Water Drop series that I am creating," Alissa Rosenberg explained. "This is purely macro photography. I used a single flash setup to freeze the motion of the waterdrops and I experimented with different backdrops and objects to capture the water refraction. This photograph utilized everyday colored pencils and the backdrop was a photo of an eight ball. I used a macro lens and the Nikon D7100."
© Alissa Rosenberg
Eye of the Owl
"The owl was in the Callaway Gardens (Pine Mountain, Georgia) Birds of Prey program," Allan Carrano noted. "It flew unbelievably low over the audience, with its tail feathers actually brushing the top of my head during flight. After landing on its perch, my physical closeness and a telephoto lens provided this close-up." He shot it with a Nikon D5100 and a Nikkor 200-500mm f/5.6 VR lens at 500mm, f/5.6, ISO 200, 1/500 second.
© Allan Carrano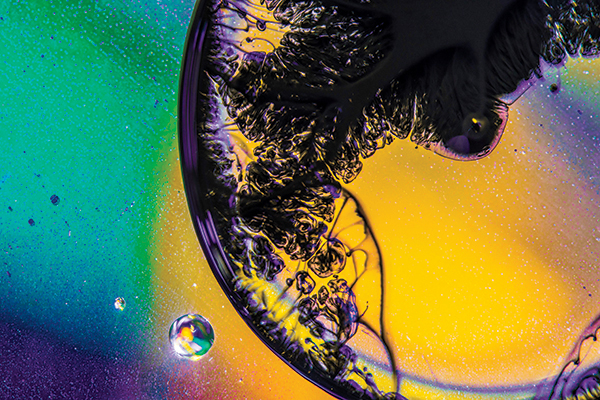 Enigma
"I wanted to create an image that had multiple layers to it but did not want to use Photoshop to make the layers," Chad Byerly explained. "This is an image of a drop of oil on a glass panel with a colorful scarf below and out of focus. The black swirls are from a drop of ink added to the oil drop." It was captured with a Nikon D800E and a Micro-Nikkor 105mm lens on a Gitzo ball head and a Manfrotto tripod. The camera was fired using a Nikon cable release and the flash is an off-camera SB-800 Speedlight on the ground lighting the scarf.
© Chad Byerly
Bryce Stump
Gerald Swede shot this old tree stump in Bryce Canyon with a Nikon D300 and a Nikkor 16-85mm VR zoom lens set at 68mm, f/9, 1/100 second,
ISO 250.
© Gerald Swede
Picture This! – Our Next Assignment
Low-Light Noir
For our next assignment, we want you to go all dark and moody and share images that recall classic "film noir" movies. For those readers who skipped Cinema Appreciation class, film noir is a French term used to describe stylish Hollywood crime dramas from the 1940s and '50s. But we don't need crime scenes (necessarily). Here's what you should shoot for: gritty, high-contrast images, preferably in black and white, captured in low-light conditions. Of course, color photos are fine, too, but make them shadowy and mysterious: think Edward Hopper, not Walt Disney. Film grain effects or even digital noise are encouraged, just as long as it suits the subject.
Show Girl
I shot this image with the Sony A7S II, a full-frame, mirrorless camera that I have dubbed "the master of the dark arts" for its impressive low-light-shooting prowess. It was captured at IS0 64,000, a sensor sensitivity level that would have been unheard of in a camera not long ago. The woman in the image is a model but with her elaborate feather array and sunny but sad expression, she struck me as a tragic showgirl who, in my imagination, was wrapped up in a tumultuous affair with a gangster. I shot the image in color at f/8, 1/400 second, but later converted it to black and white with Nik Silver Efex Pro to give it a dramatic, noir-ish look.
© Dan Havlik
How To Submit Online
1. Go to www.shutterbug.com and register. Scroll down the page and on the right side you will see a box for entering your username and your password. If you have already registered and/or submitted images for the Galleries you can skip this step. Respond to the activation e-mail. Registration is free. You will use your username and password whenever you visit or, with some systems, it will automatically load for you when you visit www.shutterbug.com.
2. Check the assignment and closing dates in the magazine. When the magazine is printed we will create an appropriate gallery for your images. The limit is two images per assignment.
3. Select and prepare your images. We only accept files at a maximum 5MB size, JPEG format. Save the JPEG at a quality level of 10 or higher. Note that file size in your image folder directory will determine upload size, not the "opened" file size, as JPEG compresses at 1:4 at higher quality ratings. If your images do not load it probably means you have exceeded the file size or have not used JPEG format.
4. Click on the Galleries tab on the homepage. In the Category section use the drop-down menu to select the Picture This! assignment. Note that images are simultaneously loaded into the assignment category as well as your own personal gallery. When the Picture This! assignment deadline date has lapsed the assignment gallery will be removed, but your images will still reside in your own gallery.
5. In the Description box add title, camera, lens, exposure information, and your full name. Also add any other comments or anecdotes you think relevant. We reserve the right to edit comments as needed.
6. Click the Save button at the bottom of the page. This uploads the image.
7. You retain copyright on the image.
8. We will choose the images after close of the due date.
9. Please feel free to comment on images submitted by other readers.
Please Note: If the photograph includes a minor or a recognizable individual or group you are guaranteeing that you have a signed model release form, and especially a parental or guardian release form for minors. You should keep a copy of that release in your files. Scan that release and keep it handy. If an image is chosen for publication, failure to provide a form when requested will eliminate the image from consideration. You can find release forms at http://asmp.org/tutorials/model-release-minor-child.html and other resources on the Internet. By uploading images you attest that the model release form is valid, that any depiction of a person is with their consent, that you have a model release form available on request, and that all images you submit have been made by you.
Scorecard
Deadline for submission: September 1, 2016.
Images will appear in our December 2016 issue.

Our next topic: The Great Outdoors
Deadline: October 1, 2016
Publication Date: January 2017
Please Note: By submitting you agree to give us the right to show the image(s) on the web and for publication. You give us publication rights in the magazine and on the website(s) of TEN: The Enthusiast Network, LLC.
Want to see images selected for past picture this! Assignments? Go to www.shutterbug.com and click on picture this! In the "more articles…" box on the homepage.
If you have any questions or problems e-mail us at editorial@shutterbug.com with Picture This! in the subject line.