Homeworkers Organized For More Employment Opportunities
"It's a privilege to work with good people and to do good work. There is nothing to prevent me from living my conscience other than myself."—Lucy Poulin, 1993
H.O.M.E. (Homeworkers Organized for More Employment), the low-income housing cooperative which Lucy Poulin founded, serves a poor and rural community of 8,000 located in Orland, Maine. The H.O.M.E. co-op has offered jobs, food, temporary shelter, education and home ownership to the rural poor for the past 28 years.
Lucy, the eighth of eleven children, grew up in a poor family in Fairfield Center, Maine. Her widowed mother imparted a strong work ethic to the Poulin children. "We worked to survive," recalls Lucy, "waking up early for the chores of the farm, hauling water for the cows, and chopping and burning wood for our heat." Lucy worked at a chicken factory and a paper mill and tended her mother's farm from the age 13. She and her brother Michael (who won an equestrian bronze medal at the Barcelona Olympics in 1992) began a riding academy to earn more money for the farm. In 1957, Lucy joined a Carmelite order; seven years later, the order assigned her to a Carmelite group in Bucksport, Maine. "I was doing a lot of work with local poor people and I had no real training and no college degree. Slowly, some projects like a knitting and weaving outlet developed out of our various needs. That was the beginning of my work in Orland."
Lucy champions what she calls "self-development economics." In 1970, she created H.O.M.E. as a cooperative to help local home-crafters sell their goods. Now located on 23 acres of land, the co-op has expanded into a free health clinic, a soup kitchen, a food bank, and five homeless shelters. It is also a learning center with daycare, literacy and General Education Degree tutoring, alternative high school- and college-level programs, and job and craft training. It has pottery, leather and weaving shops; a greenhouse and a farmer's market; a sawmill and a shingle mill; and a service that delivers firewood to the elderly. H.O.M.E. also has created a land trust of 700 acres for the construction of low-income housing. By 1998, construction had been completed on 30 homes and had begun on 20 more. Each year, as many as 750 volunteers help H.O.M.E. build houses, provide health services, chop firewood and do repairs. And every year, more than 8,500 people receive employment or other services from the H.O.M.E. community.
Lucy has organized a cultural exchange between Orland and the Guatemalan town of San Juan Comalapa Chimaltenango. Each year, Lucy travels to Guatemala with a group from the U.S. who contribute a little money and a lot of hard work to support a community house, a weaving co-op, and a medical clinic which Lucy helped to organize in the town.
"The main thing is that there is dignity in the exchange," Lucy says. "It's so easy to go down there and take; that's why we structure the exchange to be a home stay and work visit so that we live with the families, work for them, and get to know them."
In 1994, Maine granted H.O.M.E. a large land grant for low-income housing throughout the state. Lucy is currently creating six or seven land trusts through which cooperative houses and communities can be built.
With her hectic schedule and full life, Lucy says her biggest challenge is to try to be a loving human being and to live with others harmoniously. "I gather my strength from the life I lead. It's a privilege to live with extraordinarily good people, to plant gardens and build houses and teach others how to live on a farm. Farm life gives life to everyone." For support, she says, "I slow down, pray the rosary, talk to others in my community, and spend time with the animals—the ducks, geese, Pyreneen dogs, goats and horses." Her adopted son Jimmy, who was born with Fetal Alcohol Syndrome, is also a source of inspiration. "Having a son is like a miracle."
Lucy Poulin's welcoming spirit characterizes her life and work. Eddie, a neighbor, was known for his prejudice and intimidating displays of violence. Lucy invited him to join the H.O.M.E. community because she'd rather have him "inside shooting out instead of outside shooting in." He took a job as a sawyer in the sawmill and eventually flourished as a member of the community. "Alienation creates the anger we see in this world." Her community is named after St. Francis because, Lucy explains, "it just fits who and what we are. St. Francis emphasized a simple life, the wonder of animals, and the acceptance and welcoming of everyone."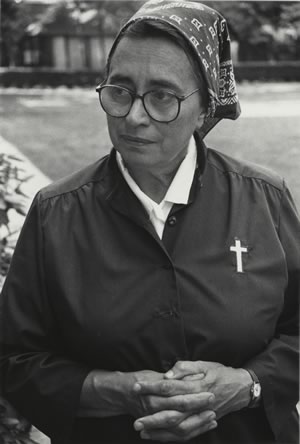 Photo by Dorothea von Haeften
By Meg Haskell, BDN Staff •
ORLAND, Maine — The H.O.M.E. craft cooperative and shelter community has occupied its prominent hilltop campus just north of Bucksport on Route 1 since it was founded in 1970. It's easy to drive right past without stopping, despite the battered letterboard sign at the corner of Schoolhouse Road inviting a visit to the craft shop, open from 8 a.m. to 4 p.m., seven days per week, all year.
But the H.O.M.E. campus — the apt acronym stands for the more proletariat Homeworkers Organized for More Employment — is way more than a crafts outlet. It's more like a medieval village.
The 23-acre site includes crafting workshops for leather, pottery, weaving, stained glass, quilting and woodworking, to be sure. There also is short-term shelter housing for about 15 indigent men, women and families and low-cost permanent housing for a few older adults who have nowhere else to live because of mild developmental disabilities or other conditions. There's a busy sawmill and shingle mill, an auto repair shop, a bustling soup kitchen, a food pantry, a licensed day care center and an administrative office.
Together, the campus employs a total of about 40 workers, some from outside the H.O.M.E. village and some from within, including shelter clients. There's a small chapel, too, where nondenominational services are held each Sunday and where Alcoholics Anonymous holds a regular Monday meeting.
"Basically, there are three reasons people come to us," said Lucy Poulin, the former Carmelite nun who founded the grass-roots organization 46 years years ago and, at 75, still serves as its director. "They need a place to live, they want to make the world a better place, or they want to take the Gospels seriously."
For Poulin — still fondly called "Sister Lucy" by those who have known her longest — taking the Gospels seriously includes honoring the literal intention of the Second Commandment.
"If you truly love your neighbor as yourself," she said, "you don't put them in a shelter at night and throw them out on the street in the morning. Everything you have, you want for them as well."
For her, that means providing not only a bed and meal but a community with relationships, responsibilities, meaningful work, security and a future.
"Social isolation crushes people," Poulin said. "Community makes them whole."
A hands-on ministry
Poulin grew up poor on a farm in Fairfield Center, one of 11 children raised by her widowed mother. Taking on many of the chores and projects of farm life from a young age, she developed a strong work ethic and a deep sense of each person's contributions to the family's well-being.
At 26, she joined a small community of Carmelite sisters based in New Hampshire. A few years later, eager to return to her home state, she was reassigned to a Carmelite community in Bucksport and found herself working closely with local families struggling to make ends meet.
In 1970, Poulin established the H.O.M.E. crafts cooperative as a way for local women to market quilts, knitwear and other handcrafted items, purchasing the 23-acre hilltop site for its visibility and the presence of the simple building that would become the crafts store. Almost immediately, she recognized a larger mission to serve the poor of the area with housing, food, medical care and a material sense of community. It would take years for H.O.M.E. to shed its early, miscast reputation as a commune or a cult, she said, but the work there has always been directly grounded in the Works of Mercy laid out unambiguously in the Bible: Feed the hungry, clothe the naked, shelter the homeless.
Poulin's hands-on approach to working with the poor set her at odds with the more prayerful Carmelites, she said, and led to her expulsion from the order shortly after H.O.M.E. was founded.
"The priest told me I had 'an incorrect spirit of poverty,'" she recalled. "I wasn't contemplative enough; I was out here helping people instead. It was very difficult at the time, but I got over it."
In retrospect, she sees that the experience refined her faith and helped align the gritty work of her hands with the loftier meditations of her heart. "It deepened me. Now I am more prayerful, more devoted to Scripture. I try to practice the presence of God in every minute."
Supporting Maine's neediest
Over the ensuing decades, guided by the motto "to serve first those who suffer most," Poulin has cobbled together a sprawling, loose-jointed, shoestring organization that has served thousands of Maine's neediest residents.
Beyond its high-visibility hilltop site in Orland, H.O.M.E. is active in a number of other Maine communities, including nearby Bucksport and Ellsworth, where it provides short-term shelter and transitional housing for about 30 adults and families. It has built clusters of affordable homes in communities such as Sedgwick and Dedham, using a model that allows low-income families to purchase their homes while the organization retains ownership of the land, which is managed for timber production for the sawmill and shingle mill in Orland.
Secluded Mandala Farm on Toddy Pond in Orland, where Poulin lives with her adopted son, Jimmy, who is affected by fetal alcohol syndrome, is home to five other permanent residents and a menagerie of livestock and pets, as well as providing 13 family-friendly shelter beds with an average occupancy of three to six months.
The farm was envisioned as a peaceful haven for Poulin and other core workers, a place to regroup from the stresses of the H.O.M.E. campus.
"We wanted a place to be quiet, to retreat to after our workdays in Orland," Poulin said. "But then, of course, we began to take our work home anyway."
Mandala Farm is technically owned by St. Francis Community, a separate nonprofit Poulin established in 1975 when H.O.M.E. was growing rapidly. The organization also is affiliated with Emmaus International, a nonreligious movement that combats poverty and exclusion.
Now, although the two organizations have different missions, they are deeply integrated. For example, the Emmaus shelter in Ellsworth is owned by St. Francis Community but administered by H.O.M.E. Funding to renovate the former post office was provided in part by Emmaus International.
Supporting H.O.M.E.
Though the H.O.M.E. enterprise is far-flung and unwieldy, supporters agree it serves an essential function in the communities it serves. Hancock County Sheriff Scott Kane said his office refers people to the shelter services and soup kitchen regularly and occasionally even delivers clients who have no transportation.
And although the mix of transient shelter clients sometimes causes predictable problems, often related to substance abuse, "I don't expect we respond to their sites more than to anywhere else," he said. "They've been very helpful in meeting the needs around here. I tip my hat to them for what they do."
Kane did note that in 1999, H.O.M.E. was the site of a dramatic shootout when officers responded to tips that a suspect featured on the television show "America's Most Wanted" was staying at the Orland shelter. The tips turned out to be accurate, and convicted sex offender Richard Burdick of Massachusetts was captured there.
At the Orland town office, Ed Rankin, chairman of the Board of Selectmen, said, "They do a lot and help a lot of people."
Although H.O.M.E.'s tax-exempt status affects town revenues, that impact is more than offset by the benefits of not having to provide municipal solutions to homelessness and hunger.
"We have no problem with them," he said.
Although it draws state and federal funding for some services, H.O.M.E. relies heavily on donations from private foundations, churches and individuals, including some former clients. In addition, church groups and college students from across the Northeast regularly spend weeklong work sessions tending to backlogged maintenance and other projects.
"It may not be very dramatic or very elegant, but it has been a huge support to that whole area," the Rev. Susie Craig, a retired Congregationalist minister who now lives in Wiscasset, said.
In 1987, Craig was a seminary student in Greenwich, Connecticut, when she first watched a video about H.O.M.E. and its mission in rural Maine. Over the past 30 years, she said, support for the organization has spread through areas of Connecticut, resulting in reliable donations of money, volunteer labor and more. Youth groups visit each spring to give of their time and energy, an experience Craig called "life-changing" for young people confronting the face of rural poverty.
Poulin, who has created a small management team to learn the ropes of running H.O.M.E. as she approaches retirement, acknowledges poverty, hunger and homelessness continue to plague Hancock County, despite a lifetime's dedication to combating them. She doesn't know what the future holds for the complex organization she has created, only that the need for compassionate, nonjudgemental, nonbureaucratic intervention never ends.
"I don't think about things too much," she said. "This is day-by-day work for me. I get up early every morning. I read the New Testament. I say the Rosary, which helps me focus on truth, reality, simplicity and what really matters. I feed the birds. I find it very helpful."
---